Don't you just love it when a plan comes together? For me, professionally, that usually means my client has embraced some change or other and experienced an improvement in their health. Sometimes, though, change may prove elusive: our clients aren't ready for it, it's too big, or perhaps it doesn't fit in with their life or beliefs or values. Maybe they are well-intentioned but Life throws another curveball and change slips down the priority list; they forget; they veer off track. They lose heart, and confidence in their own ability to make different, better, choices.
"I have not failed. I have found 10,000 ways that don't work."

Thomas Edison
There are many reasons why our clients may stumble when embracing the wellness behaviours that better support their body and mind. Understanding what those reasons are and how they influence our clients , may enable us and them to create and make more effective choices.
Just like the whole "eat less, move more" concept, it sounds simple but often isn't. One place to start is with building connection: connection with who they are at a deeper level, the reasons why their beliefs and behaviours have developed and become established, and how these choices might adjust according to different contexts or situations.
The judgement-free guiding of a client as they explore, find meaning, and connect with their experiences may help them move towards understanding and accepting themselves as they are and where they are at this moment. From there, they may be more open to adjusting their choices.
"The curious paradox is that when I accept myself just as I am, then I can change."

Carl Rogers, originator of 'client-centred therapy'
'Connection' implies joining something together; a bit like a dot-to-dot puzzle. The more numbers, the more complex and detailed picture, but every single dot-to-dot puzzle starts with number 1 and moves naturally and logically, step-by-step, until gradually we 'get the picture' (sorry). For many of us, including our clients, behaviour change begins when we find the dots and start the process of linking them together.
"The first step toward change is awareness"

Nathaniel Branden
So the first step in behaviour change may be to look for the dots: to bring something – a behaviour, a belief, a value – into awareness and acceptance. Sometimes the dots are clearly visible, other times they need to be searched for. And that search for understanding may be encouraged by reflection: the thinking and pondering and conversations that enables us to glimpse our deeper selves and shine a light on the very foundations of our choices.
But thinking, pondering, and reflecting often requires a trigger or cue: something to kickstart the process. A carefully placed question, a statement, or even a little drawing may be all it takes to open up an entire, deeper dialogue that reveals the direction we need to take and how to take the first step.
Enter "WELL?"
Subtitled "curious about health" it is just that. A little deck of playing cards that encourages meaningful conversations about the five pillars of physical health. Inspired by nutrition, psychology, and behavioural science, each card offers a non-judgemental trigger or cue to explore the contributions made by mindset, eating, movement, sleep and relaxation.
"I love these cards. Often I stare at my journal and can't think what to write – these help me get started"

CB, 24yo female client
The deck is colour-coded and numbered for ease of sorting and use. There are carefully constructed, nuance-free questions that are open to individual interpretation, statements for discussion, and graphics to explain and illustrate or remind us of a key consideration.
"They are so "gentle" yet effective for digging deeper"

AB, Nutritional Therapist, Health Coach, Chef, Author
A brief instruction leaflet offers suggestions to get started but the intention is non-prescriptive. Use it however you feel best: in conversation with another person or a small group, as part of reflective journalling, even as a photo or card in your wallet or purse to keep you on track.
"This deck of cards is dynamite in little pack"

LdW, Health Coach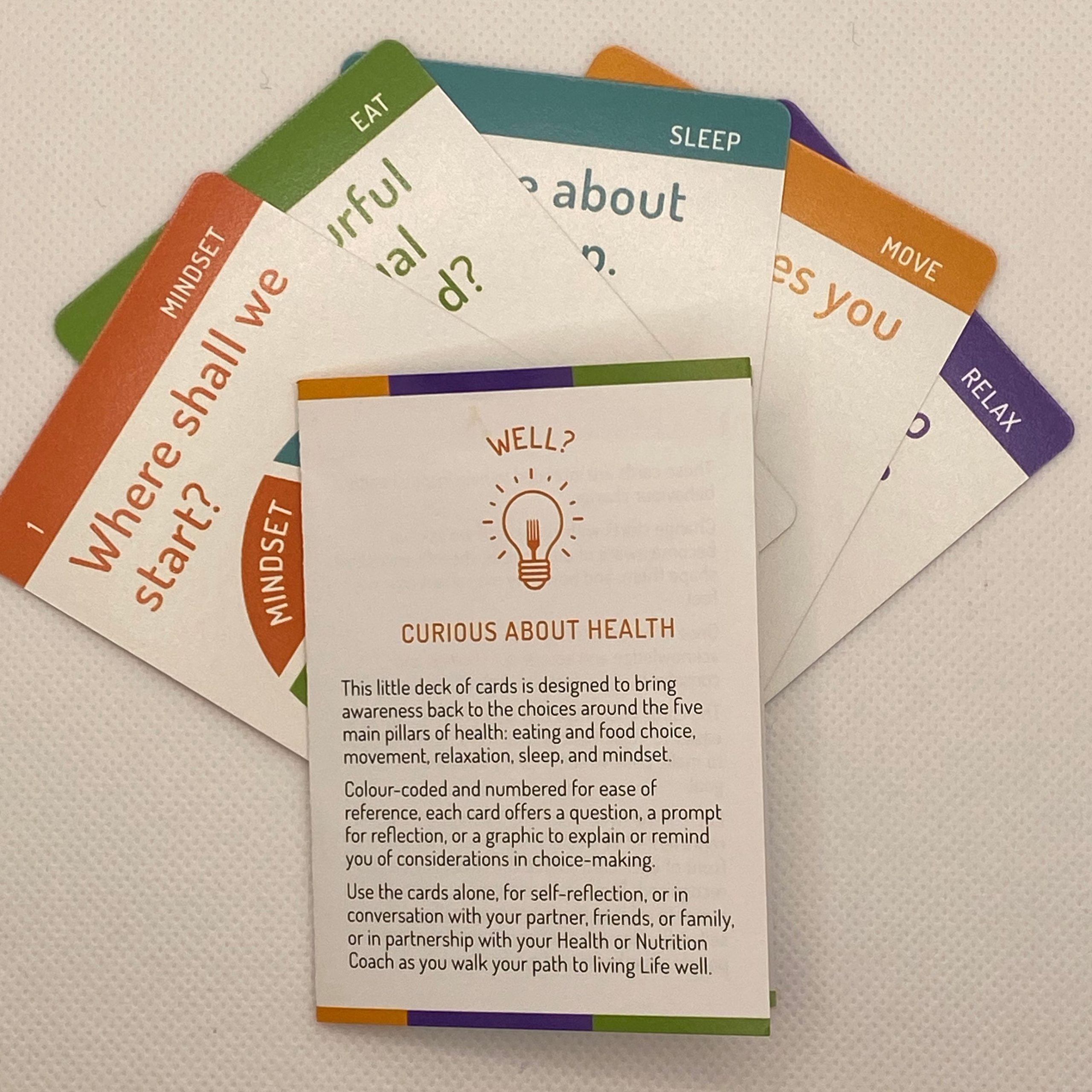 "WELL?" is available for purchase by nutrition practitioners and health coaches and can be used in a face-to-face in-person setting or online over a platform such as Zoom:
to create, build and deepen clinical conversations, whether 1-2-1, partners or families
to kickstart conversation and interaction in small group settings
to provide a frame for FB 'lives'
as a client tool in longer programmes, particularly around eating behaviour and influences on food choice
as a 'thank you' gift to clients who have completed a longer package, to help them stay on track and create a positive lasting memory of their work with you
as a referral 'thank you' for other practitioners to showcase one of your approaches
to help structure Discovery Calls, workshops or courses
however you feel appropriate – for you, your client, your business.
Created by a practising Nutritional Therapist and tested during development by a group of Nutritional Therapists and Health Coaches in UK, Europe and South Africa, this professionally produced, colourful deck of cards is designed to sit easily on a desk, slide into a desk drawer, or fit into a bag. The colour palette is gender-neutral; the font is clear and simple; each card carries minimal, distraction-free, information.
"This deck is a game changer"

KG, Nutritional Therapist
With an RRP of £23 (incl. first class UK P&P), "WELL?" represents a cost-effective, simple and practical resource that can transition into many settings and add value at any point of the client pipeline.
To order your pack, please email sabra@happierreating.co.uk or message 07905 093840 with your delivery address.
"WELL?" travelled: the RRP for cards being sent to countries within the EU is currently £30.
Other delivery options, including 'tracked and signed for' or despatch outside the EU, incur an additional fee; please contact sabra@happiereating for details.
If you would like to know more about the deck, its development, the rationale behind the thinking, ideas for use, or simply want to invest in an edition for your own reflections, please email sabra@happiereating.co.uk or message 07905 093840.
Is it time you, and your clients, became more curious about health?
"Thank you for designing this: I will definitely be using these on myself and with my clients"

UL, Health Coach